A couple of weeks ago Kevin William David interviewed Savvas Zortikis (Co-founder at GrowthRocks, CEO at Viral Loops) for Siftery.
Siftery is here to help businesses better discover, buy and use software.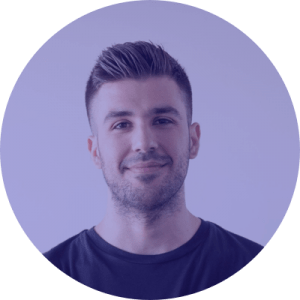 Hi Savvas, Can you tell us about Viral Loops?
Viral Loops is a template-based viral and referral marketing platform helping businesses acquire more customers through word of mouth sales. All campaign templates are inspired by the most impactful referral programs from companies like Dropbox, Airbnb, Robinhoodand Harry's.
Online and physical businesses can build referral and ambassador programs, prelaunch campaigns, viral sweepstakes and competitions, which can be integrated into any website in minutes through our code snippet, eCommerce plugins or API.
Tell me more about why you are building this?
When I was running GrowthRocks, one of the first growth marketing agencies, I was helping brands and startups drive growth through virality and word of mouth. We were designing the campaign concept and using referral platforms — some of our current competitors 🙂
The problem Theodore Moulos and I saw, was that companies do not know what works and what doesn't for them. Dropbox skyrocketed its growth by incentivizing people to invite their friends to signup to Dropbox.
The same concept doesn't necessarily work for an eCommerce store or a B2B SaaS business.
The existing referral marketing platforms give you the technical mechanism to build such a program, but not the "how."
And this is how we came up with the idea of building a platform that can actually work for these companies based on their industry, goals, and targets. This is why we have different campaign templates for eCommerce stores, tech companies that want to build their ambassador program offering swag, and startups that haven't launched yet.
Another problem is that paid advertising is getting harder and more competitive. Now, everyone runs ads on Facebook and Google. That increases the paid costs and business struggle.
Not to mention, that ad blocking is booming. I was reading an article by Andrew Chen, mentioning that according to Mary Meeker's latest internet trends report, up to 1/3 of some countries are using ad blocking. We're quickly on our way to 600M internet Monthly Active users who can't be reached by ads.
What's unique about what you are building & why do you think companies should use Viral Loops?
Some of our biggest competitors are ReferralCandy, Ambassador and Friendbuy.
As mentioned above, we have a completely different approach. Our platform is template-based, meaning that we have numerous types of viral and referral marketing campaigns, like:
referral programs for eCommerce stores
ambassador programs
prelaunch campaigns
viral and sweepstakes and competitions
We also provide an "offline" referral template for physical stores and businesses, like barber shops, coffee shops and restaurants to drive foot traffic from their website through word of mouth.
Last, we offer an Intercom-style widget for referrals with "smart" behavior based on people's actions, network, and characteristics.
I think companies can have huge gains from Viral Loops. Virality and word of mouth is not just a marketing tactic. It's an untapped marketing channel. If they unlock it, they can scale customer acquisition and boost their social media reach, while decreasing their acquisition costs.
Can you tell us a bit about the different customer segments using Viral Loops?
Companies like Product Hunt, Growth Tribe, Joeywears and Clover Letter are some of the great companies that use Viral Loops for their referral and ambassador programs.
Our platform is used mainly by eCommerce stores, startups, communities and lately brick mortar. Most of our customers have growth, marketing, and product functions.
How are your customers using Viral Loops? Could you share a few different use cases?
Viral Loops is an all-in-one viral and referral marketing platform and that gives lots of possibilities to our customers to help them with their business goals.
Acquiring new customers and users through referral programs
One common case is when an eCommerce store wants to increase their customer base. They offer an Airbnb-style eCommerce referral program, where the referrer gets a discount on his next purchase while the invitee gets a discount on her first purchase.
Ambassador Programs for branding and word of mouth
Another scenario is when companies want to make their brands stronger and drive word of mouth. This is where our Milestone Referral template comes in to help them build their Ambassador Program. With this template, they can create different milestones with different rewards. Based on the number of friends people invite, they win prizes.
The rewards can be from company swag like stickers and t-shirts, to discounts and special content. We got inspired by the great prelaunch referral campaign of Harry's and the ambassador program of The Hustle.
Startup prelaunch campaigns for early adopters
Lots of startups use our Robinhood's Startup Prelaunch template to build waiting lists before they launch their product, so they can have a pool of potential users from day 1.
Email list building and engagement through viral sweepstakes and giveaways
Brands also run viral sweepstakes and competitions, in which people need to invite their friends in order to climb up the leaderboard or increase their chances of winning. This helps companies to increase their social media reach as lots of people invite their friends through Facebook, Twitter and Messenger. It also helps them grow their email lists faster.
Have there been unique use cases for Viral Loops that you hadn't thought of or expected?
Two cases that come to my mind are JoeyWears and SlashData.
JoeyWears is a cool underwear brand for men. They use our Milestone Referral to generate awareness and build an audience before their Kickstarter campaign. They're giving discounts and free underwear based on the number of people you invite to the campaign.
SlashData is one of the biggest research companies for technology trends. They use Viral Loops to increase the number of people participating in their surveys. After someone completes the survey, he is asked to invite other developer friends to take the survey in order to win bitcoins.
The more friends you invite that complete the survey, the higher you climb up the ranking and therefore win more bitcoins.
Were there any early 'growth hacks' or tactics that have contributed to your current success?
Virality and Referral Marketing
All of our widgets have a tiny badge "With ❤ by Viral Loops." This brings high-quality signups and customers to us, together with our referral and ambassador program.
Co-branded content marketing
We publish articles, ebooks and videos with companies that target the same audience we do. For example, we published an ebook with eCommerce growth tactics together with Contact Pigeon, a marketing automation platform for eCommerce stores.
Conferences and building relationships with great marketers and growth hackers
I give quite a few talks about virality, referral marketing and growth hacking in general. This gives me the opportunity to meet and work with exceptional people. Some of them are Sujan Patel, growth and content marketing expert, Josh Fechter founder of BAMF and Gretta Rose van Riel, founder of Hey Influencer and SkinnyMe Tea.
GrowthRocks — That was a bit unfair advantage for us. We made our first Viral Loops sales through our growth marketing agency even before having the product ready.
What were some of the biggest challenges while building the product early on and how did you solve them?
One of the biggest challenges in the beginning was that we didn't have a clear focus. We were building Viral Loops for everyone. And that was a big mistake because, for example, when an eCommerce marketer wanted to use our platform, we didn't have any plugins for Woo Commerce, Magento and others.
We identified that issue both from qualitative data we were getting from our Intercom chat and quantitative from Mixpanel. Our activation was too low. We then changed the focus of our growth team and focused on one single metric: How many people install our snippet in their page successfully.
To increase that metric, we followed the high-tempo experimentation method to execute multiple experiments every week.
What have been some of the most interesting integrations you've added? Are there any that have been particularly impactful for you?
Our customers use it to get notifications about their campaigns — how many people participate in their campaign, the number of referrals, viral factor and other important metrics.
Email is one of the main channels people use to participate in the campaigns of our customers as well as invite their friends.
Most of them use our MailChimp integration to sync their leads and referrals gathered in Viral Loops with their Contact Lists. We also pass data like the number of referrals each user has and their unique sharing links, allowing our customers to segment their users based on the level of advocacy and also trigger automated campaign promoting their referral program.
Zapier allows our customers to integrate Viral Loops with hundreds of apps, even if we don't have a direct integration, say, with a CRM. And of course, it saves a ton of development effort from our side.
Companies that use company merchandise as rewards love using our integration with Startup Threads. This way, reward fulfillment happens automatically and our customers don't have to do anything manually.
For example, when someone wins a t-shirt, she automatically gets an email asking for her size and address. Then Startup Threads completes the shipping of rewards.
Before we end, What are the top 5–10 products that you depend on to run the company & how do you use them?
We use Intercom to chat with our website visitors and onboard our new users. We also use it for several marketing automation campaigns and flows.
Slack is our internal communication tool. We use quite a few integrations both for convenience and transparency.
Baremetrics is our tool to keep track of our MRR, Net Revenue, and other important metrics to run our business.
For internal documentation and docs, we recently started using Paper by Dropbox. We really love the user experience and the "feeling" of writing.
For analytics and understanding our users' behaviour, we use Mixpanel.
Originally posted here.