Everybody speaks about SEO nowadays and everybody promises that you will get ranked in 1st page. Period. This is actually "fake news" as the questions to be asked should be:
Why will the proposed SEO strategy work?
How much time will it take me to be there?
For which keywords that should happen, is it about the branded ones or the short-tails or long-tails ones? Those three alone are making a hell of a difference.
For a successful SEO strategy, these are the important elements to work on and nail. Do they guarantee success? Not exactly but it's the best you can do.
On-site Optimizations for SEO
On-page SEO optimization consists of analyzing and acting on the pages residing on your web servers in order to make them Search Engine friendly. Certain checks and on-page factors health-check and detailed report where we will analyze all important elements such as:
Proper usage of H1, H2 and H3 headings.
Proper usage of images.
Text/HTML ratio and proposals on how to fix that.
Utilization of new technologies such as: IA, AMPs.
Proper utilization of OGs and Twitter Cards.
The existence of Robots.txt and how to fix that if it doesn't exist.
The existence of XML Sitemaps and how to fix that if it doesn't exist.
The existence of Thin Pages.
After conducting an SEO health report, you should proceed with page optimizations, as per the latest (2017) best practices in SEO standards, e.g.:
SEO friendly URLs.
Calls to action placed in proper positions.
page loading speed.
user-friendly 404 error page.
title tags, descriptions, alt image tags, structured data markup code, modifiers.
outbound & inbound links.
social media integration.
keyword research & targeted keywords in content.
content depth.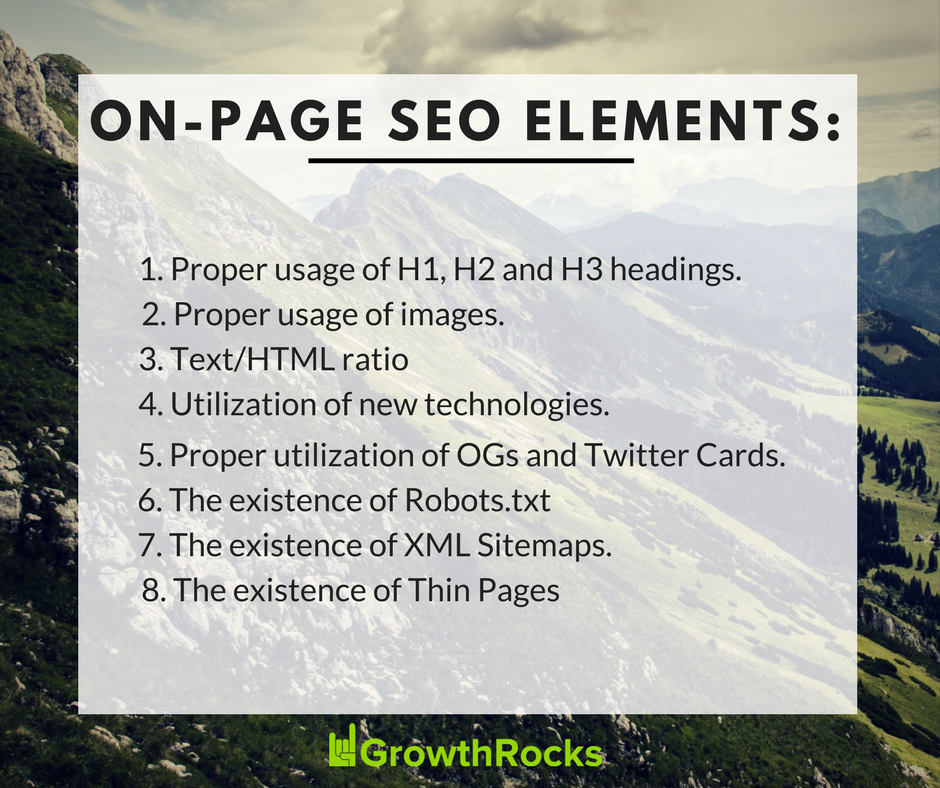 Keyword Research / Competition Landscape
Keyword research is one of the most important, valuable, and high return activities in the search marketing field. Ranking for the right keywords can make or break your website.
By researching your market's keyword demand, you can not only learn which terms and phrases to target with SEO, but also learn more about your customers and competitors as a whole.
In order to craft your short tail keywords, you will have to use the keywords that you gathered during the early stages of the process and the pages of interest that you have provided. Furthermore, you will have to add more pages if you believe it makes sense marketing wise to do so.
Pages of interest can also be specific posts that are well optimized for conversions. Each of your short tail keywords will represent a whole topic that we will be writing about.
Note that despite having as a first goal the targeting of short tail keywords for the most important pages, sometimes this is not possible or realistic; in this case, you will have to come with the next best keyword/topic for each page.
Last but not least. On page optimizations and proposals should be applied on the whole property, while the keyword research will go on per SEO entity level. Extra topics and entities might get introduced during this stage.
With the result of the keyword analysis you will:
Understand better the strategy of your competitors.
You will include in your digital properties those keywords or phrases (long tail keywords) that will make the difference.
You will be able to define the content you need to have and blog posts to be composed.
Some of the topics that will be analyzed during the keyword research analysis and conclusions that are coming with:
What the difficulty of each targeted keyword (or in other words: What are your chances of success with those keywords)? In order to know which keywords to target, it's essential to not only understand the demand for a given term or phrase, but also the work required to achieve high rankings.
In order to complete some copies, which keywords should you use.
Understanding the Long Tail of Keyword Demand.
Understanding how your competitors perform in terms of digital activities and what you can do to overcome them.
Identifying keywords that are easy to rank for and those that it's impossible to rank for.
Moving beyond Google Keyword Planner as it's horrible at coming up with contextual keyword ideas (where human brain or a dictionary would do the trick). In other words, the GKP only shows you keywords that are VERY intimately tied to the keyword you gave it. And they very rarely show you keywords that are closely – but not directly – related to what you sell. These are often the most profitable keywords in your market.
For the reason above you will have to Create Your First Niche Topic List. The goal with your Niche Topic list is to map out the different topics that your target customer searches for in Google. We should be able to come up with at least 5 different Niche Markets off of the top of your head…which is enough to find some great keywords.
You will define the different types of keywords:

Head Keywords: These are usually single-word keywords with insane amounts of search volume and competition (for example, "insurance" or "vitamins"). Head Terms usually don't convert very well but still they need to exist in a prominent position
Body Keywords: Body keywords are 2-3 word phrases that get decent search volume, but are more specific than Head Keywords. These almost always have lower competition than Head Terms, but can still be very competitive.
Long Tail Keywords: Long tail keywords are long, 4+ word phrases that are usually very specific. Even though they don't get a lot of search volume individually – when added together– long tails make up the majority of searches online.
Creation & Implementation of the Offsite Strategy
Offsite SEO is very important because it improves the ranking significantly and quickly. It mainly deals with links and backlinks to the site's content and to other content related to you.
[clickToTweet tweet="Offsite #SEO is very important because it improves the ranking significantly and quickly" quote="Offsite #SEO is very important because it improves the ranking significantly and quickly"]
As part of the strategy, you need to define the tools, KPIs, and metrics needed to effectively measure and accurately report the offsite SEO.
The most important Metric is Number of Backlinks which means the number of the incoming hyperlink from another web page (with higher domain authority – to obtain good quality backlinks) to your website.
If you conduct an audit for the Backlink profile of your website, a full off page health check will provide you useful insights such as:
List of most used anchor texts.
Follow/NoFollow Ratios.
Links/Linking Domains.
Backlink Countries of Origin.
List Of Top Linked Pages.
BackLinks which are down/removed.
Unlinked Mentions.
Harmful Links (If Any).
Opportunities for getting/claiming existing links.
When you finish your health check you can generate a report with all of our findings. This report includes any actions that must be taken from the part of the webmaster.
The importance of these actions will be tagged as low, medium, high so the webmaster can prioritize accordingly.
Examples of the proposition can be found below:
Deployment of the Blog and proposition of a Content marketing plan with content ideas, repurposing content etc. That comes with the full set of the guidelines on how to create a highly engageable blog or content property.
Outreach for backlinks: Companies and bloggers that have relevant (but non-competing) websites will be contacted in order to create links to brands, content, and information. The main purpose is to create links and backlinks to your best content from outside the site.
Content Marketing: Publish content on other relevant websites which link back to your website.
Keep in mind that you should have a clear vision of available resources you're willing to spend. In terms of SEO there are 4 kinds of resources that are important:
Ability To Produce Quality Content. (Or Budget for Content Outsourcing)
Money for Promotional Guest Posts and Publications.
Man Hours to Execute Outreach Processes. (Or Budget for Outreach Outsourcing)
Man Hours to Implement On Site changes that will be needed.
SEO practices are more or less universal, however, each project has specific needs. In this step, you will have to assemble a team and create a strategy based on your competition/current status, budget and resources.
The main outcome that you will get is the backbone of the content calendar that we will follow. This calendar will be used for content on site well as guest posting and promotional activities. The Backbone consists of:
Blog Posts Frequency, type, length, and style.
Guest Posts Frequency, type, length, and style.
Outreach and Distribution Calendar for each type of post. This a supporting document that will be complementing the content calendar.
Before you go.
Whether you started a new website or you're trying to grow the traffic of an existing one, SEO is the cornerstone of being discovered online. In the lines above, I gave you a full backbone for your SEO strategy, that you can start implementing right now!
In case you have any questions, don't hesitate to throw a comment and I'll make sure to get back to you ASAP.