"A picture is worth a thousand of words". I bet you have already heard this. Using visuals is the best way to send a message. People will understand and remember it, they will engage with your content and hopefully, share it! For this reason, I have gathered all my favorite Instagram tools.
Regarding your presence in social media, images and videos are a must. In all platforms, they perform better than plain text. Users are not willing to read long text posts when they navigate on social media, do not forget they probably are on their mobile phone. That is the main reason why people turned their attention to visual platforms such as Instagram & Pinterest and are less focused on prior successful platforms such as Facebook, Twitter etc.
Marketers know they have to be where their audience is, so they value visual marketing a lot and shift their content strategy towards that way. Creating original visuals used to be very expensive. Equipment and professionals needed in order to create videos and images. With the progress that has been made, it is much easier to create visuals. Using a smartphone and some apps are all needed.
In this guide, you will find some free and low-cost apps that will help you boost content strategy and create visuals like a pro with limited (or no) budget.
Use your creativity and reveal the artist you hide inside you!
Let's do this!
VEED
Price: 12$ (Offers Free Plan)
Link to the site: https://www.veed.io/
VEED is an online video editing platform for individuals and businesses looking to create and edit Instagram videos for personal, marketing, or other purposes. It offers a free plan with basic features and affordable pricing options for more advanced capabilities.
Key Features:
Screen recorder
Subtitle generator
Pre-made social media templates
Background remover
AI image generator
AI avatars
VEED is a convenient and accessible option for quick and easy video content tasks, perfect for those who prefer a straightforward editing solution.
Werble
Price: Free
Link to the site: https://www.werbleapp.com/
Link to download: https://itunes.apple.com/us/app/werble-the-photo-animator/id966009633?mt=8
With Werble, you can transform your photos into spectacular and captivating looping animations that will command attention wherever they are posted! Fun and fast, Werble will help your social media posts stand out from the crowd.
Werble lets you quickly blend powerful art and special effects with your photos, then share with friends or to your social networks! Save time and surprise yourself by tapping the dice button to randomize the look, or fine-tune the result with simple tools! Personalizing your loop library is part of the fun: choose only.
Example(s):
A post shared by Theodore (@tmoulos) on Dec 4, 2017 at 8:29pm PST
A post shared by Theodore (@tmoulos) on Aug 22, 2017 at 11:58am PDT
YouStar
Price: Free
Link to download: https://itunes.apple.com/us/app/youstar-video-merge-special-effects-for-videos/id1116760985?mt=8
YouStar really pushes mobile video editing to a new level, It needs a powerful GPU to process videos and that's why they support video editing only in iPhone 6S and upwards.
You can create videos like a pro in minutes using only your phone.
Some ways you can use it:
Create music video
Showcase images and videos on a video wall
See your stories come alive with a few swipes of the app.
Example:
https://youtube.com/watch?v=dA-TvGuJr-g%3Frel%3D0%26showinfo%3D0
Snapseed
Price: Free
Developer: Google
Link to download: https://itunes.apple.com/us/app/snapseed/id439438619?mt=8
Snapseed is a complete and professional photo editor developed by Google. It supports 29 Tools and Filters, including: Healing, Brush, Structure, HDR, Perspective
One of the very few apps that allow opening JPG and RAW files! Amazing.
You can save your personal looks (like templates) and apply them to new photos later
It's important to underline that all styles can be tweaked with fine, precise control.
Photofox
Price: Free
Link to download: https://itunes.apple.com/us/app/enlight-photofox-photo-editor/id1191337894?mt=8
You'll never believe what you can create on iPhone with Enlight Photofox. Whether you're an aspiring or experienced artist, you'll be blown away by all the creative possibilities packed into this one sophisticated photo editing app: from layers and blending modes, to special effects, brushes, fonts, tonal adjustments, film, black and white and duo presets. With Photofox photo editor, you'll turn the ideas in your head into brilliant art from your phone, without the price tag of complicated desktop software. Unleash your creativity and start transforming photos into artistic masterpieces.
Create professional-looking social media posts, flyers or posters for your business
RAW support
16-bit image depth support for high-quality tonal adjustments
Filterloop
Price: Free
Link to download: https://itunes.apple.com/us/app/filterloop-photo-filters-and-analog-film-effects/id694431263?mt=8
Filterloop is a premium all-inclusive photo editor that you will fall in love with!
You can precisely adjust saturation, contrast, hue, exposure, brightness, and more. You'll get an ultimate toolkit to make your images flawless before moving on to filters.
Pixomatic
Price: 4.99$
Developer: Qube
Link to download: https://itunes.apple.com/us/app/pixomatic-photo-editor/id1080114119?mt=8
It's a Desktop-quality image masking and editing tools. For extracting objects from images and repurposing them in a variety of different ways, Pixomatic 3 has no equal on smartphones or tablets."
Pixomatic is the first-ever mobile app that brings desktop level quality for selecting and masking images. Now, you have no problems with cutting out even the most difficult picture elements, including hair! Smoothly select and mask even the trickiest hair edges.
Pixomatic has a full range of amazing photo editing tools for creative minds. Use smart cutout, add layers, apply blending modes and unique filters to create epic masterpieces.
If you market physical products, the ability to remove backgrounds in product photos and insert clean, white, or branded backgrounds is important. Υou can do this even with limited photo editing skills.
Clips
Link to download: https://itunes.apple.com/app/clips/id1212699939
Creator: Apple
Price: Free
Clips is a free app that lets you make fun videos to share with friends and family. With a few taps you can create and send a video message or tell a quick story with artistic filters, animated text, music, emoji, and fun stickers featuring characters from Star Wars, Disney, Pixar and more.
Create animated titles and captions using just your voice
Captions are generated automatically as you speak and match the timing of your voice over
Easily change the style of your title, adjust text and punctuation, or add inline emoji
Examples:
A post shared by Theodore (@tmoulos) on Feb 17, 2018 at 12:14pm PST
Canva
Link: canva.com
Download link:https://itunes.apple.com/us/app/canva-graphic-design-photo/id897446215
Price: Free
Canva is all about making design amazingly simple for anyone.
Whether you're a design newbie or a seasoned professional, Canva makes creating beautiful designs and brilliant documents as easy as possible through our vast collection of professionally-designed layouts that you can customize to perfection.
Are you a Canva user? If so, make sure to download the free smartphone app. Although the design app is fairly basic, you can access your desktop designs and make edits on the go.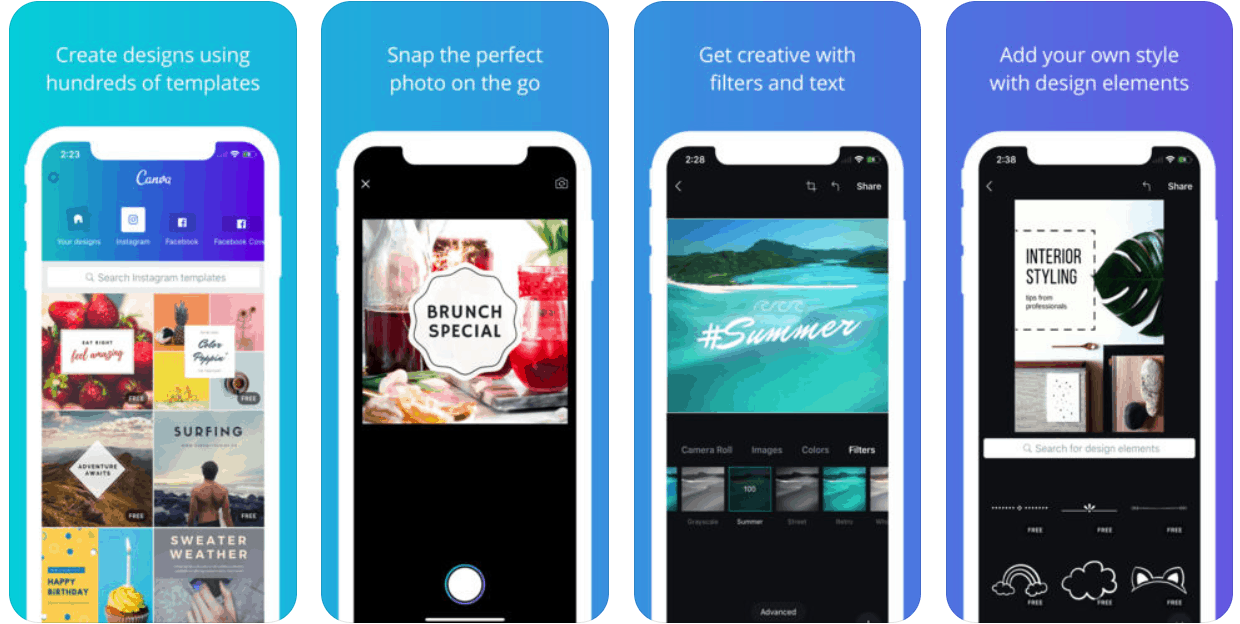 Photo Splash
Link to download: https://itunes.apple.com/gr/app/photo-splash-photo-editor/id417582128?mt=8
Price: Free
Photo splash is a free application that lets users make very nice photos with selective colorization effects popularly known as Photo Splash.
Feature
Gesture detection, pinch – you can zoom the image to do detailed splash work
pan – you can freely move the image across the screen
preview window support helps you in finding what is happening behind your finger
Both gray to color and color to gray support
Email, Album, facebook, twitter, clipboard and global wall support
Examples:
A post shared by Theodore (@tmoulos) on Apr 30, 2017 at 1:17pm PDT
Prisma
Creator: Prisma Labs
Price: free
Link to download:https://itunes.apple.com/us/app/prisma-photo-editor/id1122649984?mt=8
Prisma transforms your photos and videos into works of art using the styles of famous artists: Van Gogh, Picasso, Levitan, as well as world famous ornaments and patterns. A unique combination of neural networks and artificial intelligence helps you turn memorable moments into timeless art.
Examples: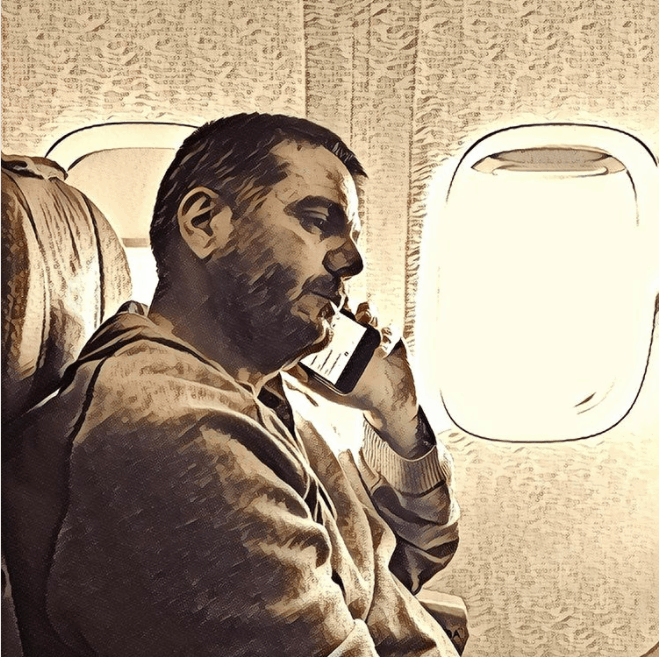 iWatermark+
Price: 4.99$
Download link:https://itunes.apple.com/us/app/iwatermark-watermark-app-photo-video-batch-canon/id931231254
If you need to brand your designs and videos with logos, try the iWatermark+ app.
Quick
Price Free
Download link: https://itunes.apple.com/us/app/quik-video-editor-by-gopro/id694164275
Create awesome videos with just a few taps. Choose your favorite photos and video clips then let Quik work its magic. In seconds, it finds great moments, adds beautiful transitions and effects, and syncs everything to the beat of the music. You can customize your story with text, music and more than easily share it with friends.
Looking for an easy but professional way to get into video marketing? Quik app combines smartphone photos and videos into some of the flashiest eye-catching slideshows out there.
Your Creativity
Those tools are here to help you, combine them, add your creativity and skyrocket your social posts!
Here are few tips we have already used:
Three phones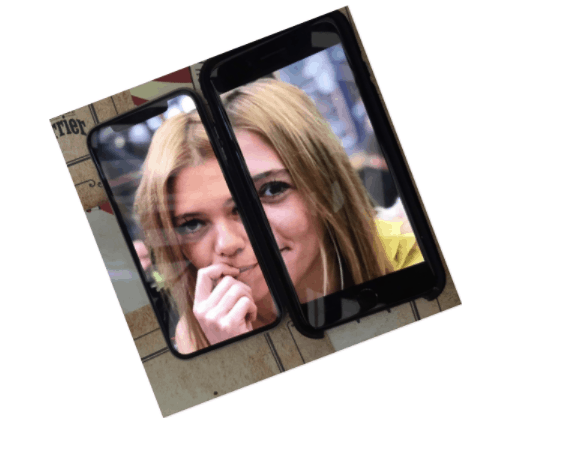 Slow motion
Just use the slow motion filter of your phone
A post shared by Theodore (@tmoulos) on Feb 3, 2018 at 5:36am PST
Photo in a photo
To Conclude
Keep an eye on the platforms and always watch and get inspiration from what others do. Keep an eye on the trends and stay up to date. This is your chance to experiment!
Yet do not copy! Remember you have to be original and sent a clear message to your audience, one that will be remembered. Now that you know why you have to use visuals and you know that you can create awesome videos and images with no budget there is no excuse! Test these tools, find the ones fit you and your strategy and start creating content!
Are there any other apps you use? Feel free to share your thoughts with us.